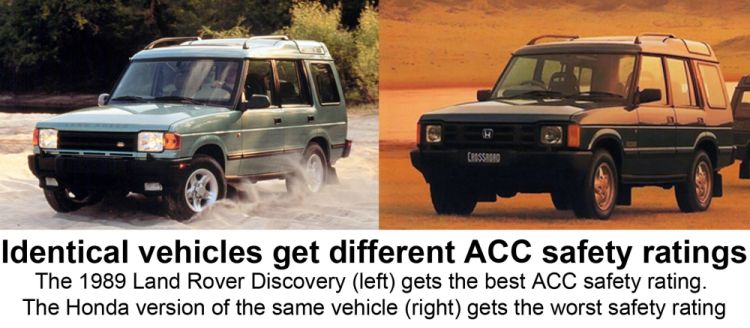 The ACC vehicle levy rating system is a lemon and should be scrapped, says the car review website dogandlemon.com.
Editor Clive Matthew-Wilson says:
"The ACC levy rating system simply doesn't work, and its problems are basically unfixable. Despite a frantic series of changes to the levy list, the system is still full of mistakes."
"Worse, the ACC is stubbornly clinging to a discredited system that rates vehicles according to data from Monash University's study of accident outcomes, instead of the results of crash tests. The end result is a system that sees older cars, with fewer safety features, being rated as more safe than the latest model with the best safety features money can buy." 
"It's almost unheard of for a newer vehicle to be less safe than the model it replaced, yet ACC penalises owners of newer, safer cars, while rewarding owners of older, probably less-safe models."
Matthew-Wilson says the reason for the worse ratings for some newer vehicles is an ACC policy of relying on Monash University vehicle accident data, rather than internationally recognised crash tests. Because Monash University doesn't have actual crash data on some newer models, many new cars are effectively penalised, because the ACC doesn't have Monash results for them.
For example, ACC gives 1989-2011 versions of the Land Rover Discovery a higher safety rating than the current model. This is despite the fact that the 1989 model had a poor crash test result, no side airbags, no electronic stability control and, in some cases, no front airbags. The current Land Rover Discovery has front, side and head-protecting side curtain airbags, together with stability control, but gets a worse rating.
Matthew-Wilson is also critical of inconsistencies in the rating system.
"The 1993-1998 Honda Crossroad is simply a Land Rover Discovery with Honda badges, yet it gets a different rating. The 1989 Land Rover Discovery gets the best ACC safety rating. The Honda version of the same Land Rover Discovery gets the worst safety rating. This is just appalling."
Matthew-Wilson describes the ACC's determination to continue to use Monash research data as "an orchestrated shambles".
"In giving a 'good' safety rating to the 1989-2011 versions of the Land Rover Discovery, ACC have lumped two completely different models of the Discovery together. You just can't do that and remain credible. The 1989-2004 Discovery is a completely different vehicle to the 2004-onwards model. Even stranger, the government's own safety website gives the current model an identical safety rating to the 2004 model."
Matthew-Wilson adds:
"The public are relying on the government to guide them towards safer cars. In fact, some of the so-called safe cars recommended by the ACC are in fact proven death-traps."
"According to the ACC, early versions of the Chrysler Voyager are very safe. In fact, they're death-traps. The 1999 Chrysler Voyager was one of the worst ever failures in European crash tests."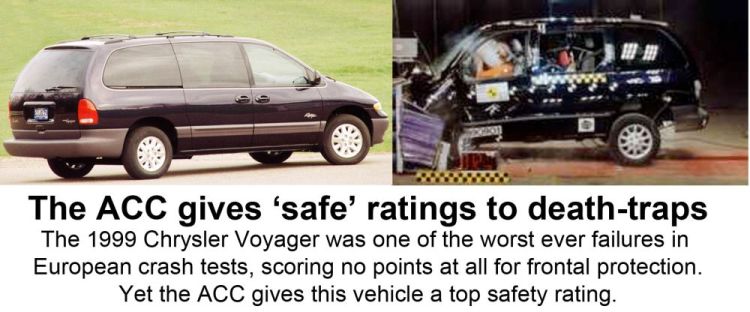 Geography: