Politicians should stop promising grand highways and instead focus on upgrading New Zealand's 'third world' roads, says the car review website dogandlemon.com.
Editor Clive Matthew-Wilson, who is an outspoken road safety campaigner, says:
"A 22-year-old man and a five-month-old baby died following a four-vehicle crash on State Highway 6 near Invercargill last Wednesday afternoon. It was the usual scenario: busy road, no median barrier and no roadside fencing. Someone made a mistake and now there are two more dead bodies."
"According to credible studies, by simply fitting median barriers and roadside fencing to existing roads, reductions of up to 90% in death and serious injury can be achieved, with no evidence of increased road trauma for motorcyclists."
"While the police continue to promote discredited theories on road safety, people continue to die. In fact, the very weekend after the police zero tolerance for speeding was widely publicised, eight people died on our roads."
"Yet, on the same weekend, a drunk driver drove into a newly-installed median barrier between Waipukurau and Waipawa. No one was hurt, even though the road was crowded. Without the median barrier, someone would very likely have been killed."
"The money that should be spent fixing the most dangerous roads in the country is instead often spent on a few new stretches of highway. New highways offer great convenience and safety, but only for short distances, because most new highways are extremely expensive and relatively short."
Matthew-Wilson gave the example of the so-called 'holiday highway' that is gradually being expanded between Auckland and Whangarei.
"One tiny section – the Pūhoi to Warkworth highway (one of the previous government's seven Roads of National Significance) – is going to cost upwards of $878 million, up from the original price of $710m.1 For $878 million, the government could have already installed median barriers, roadside fencing and roundabouts on all or most of the 160km of highway between Auckland and Whangarei.2 So, the government's luxury roads will bring convenience and safety for short stretches, while multiple people will die unnecessarily on the rest of the highway."
Matthew-Wilson says the two biggest lobby groups for new highways are property developers and trucking companies.
"Property developers buy land near major cities for future developments. These developers then lobby politicians for highways that link nearby cities to these future developments. As soon as a highway is announced, the developers' land goes up in value many times. So, the developers grow very rich from these new highways, but pay almost nothing towards the cost of building them."
Matthew-Wilson claims that trucking companies also heavily lobby for new highways, but escape most of the costs of these new roads.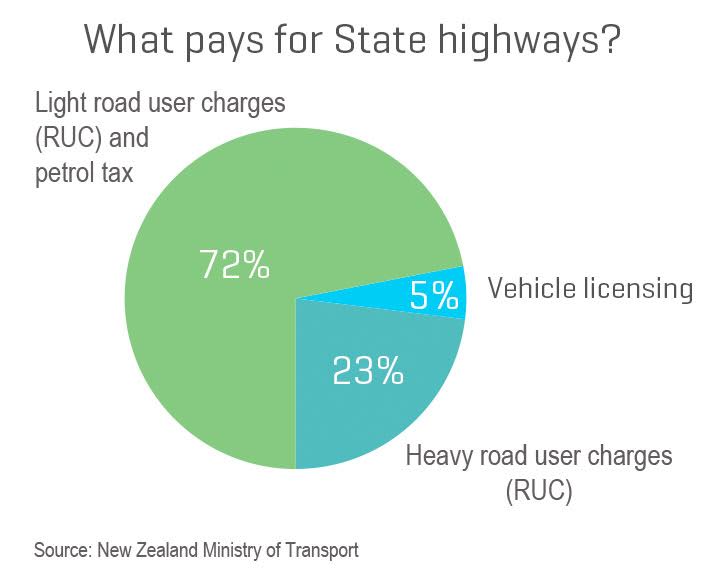 "Effectively, trucking companies grow rich off the backs of ordinary motorists."3
Matthew-Wilson also claims that trucking companies lobby against life-saving roundabouts. 
"Roundabouts can reduce fatal intersection collisions by 90%, yet they are relatively rare on highways in this country. Why? At least part of the reason is because trucking companies hate them; roundabouts slow trucks down, and slow trucks make less money."
Matthew-Wilson acknowledges that some new highways need to be built for safety reasons. 
"Some roads are simply too old and unsafe for modern conditions. And in a fantasy world with limitless funds, you could make a case for upgrading or replacing just about every road in New Zealand. You could also claim that these new roads were being built for safety reasons, even if they weren't."
"However, in the real world, funds are very limited. Priority should go to the projects that will save the most lives. If trucking companies and developers want new roads to make their lives easier, they should pay the true costs."4
"The government doesn't need to build grand new roads to save lives. Think of the Auckland harbour bridge: it used to have one serious or fatal crash a week. The police tried the usual speed enforcement campaigns, which made no difference. Eventually, a median barrier was installed on the harbour bridge; the serious crashes virtually stopped overnight and never came back."
"What does that tell you? The politicians should stop offering grand highway schemes and instead should commit to saving lives on the roads we're forced to use every day."